Deoghar is one of the most scared abodes of Lord Shiva and also known as Baidyanath Dham or Baba Dham.  Baidyanath Dham Temple is located in Deoghar in the Santhal Parganas division of the state of Jharkhand, India.
The  importance of Baidyanath Dham among all 12 Jyotirlinga sites is due to it also on of the 51 Shakti Peeths in India.
Table  of Contents
About Deoghar
 Meaning and Origin  of Deoghar
History of Baidyanath Dham
Story of Ravaneshwar Baidyanath Dham Jyotirlinga
Imortance
About Deoghar
Sacred Religious Place of Worship
Baidyanath  Nagri, Deoghar also known as "Baidyanath Dham or Baba Dham", is located in the state of Jharkhand, India. Due to the location of Baidyanath Jyotirling in the city of Baidyanath, the place got its name Deoghar, where Baba Baidyanath Shiva in the form of Jyotirlinga, and Shakti Swarupini Mata Parvati, resides in the middle of the Baidyanath temple, in the Shakti Peeth.
Baidyanath Temple commonly called Baidyanath Dham and Baba Dham. It is one of the twelve Jyotirlingas in India and is considered to be the holiest abode of Lord Shiva. Baba Baidyanath Temple of Deoghar is very famous. Baidyanath Jyotirlinga Temple is also a Shakti Peeth, where the heart of Mother Sati fell, due to which it is also known as Hriday Peeth. It is said that all the wishes of those who come here are fulfilled. That is why this linga is also called "Kamna Linga".
Deoghar is known to be the cultural capital of Jharkhand state due to its religious and cultural singnificance.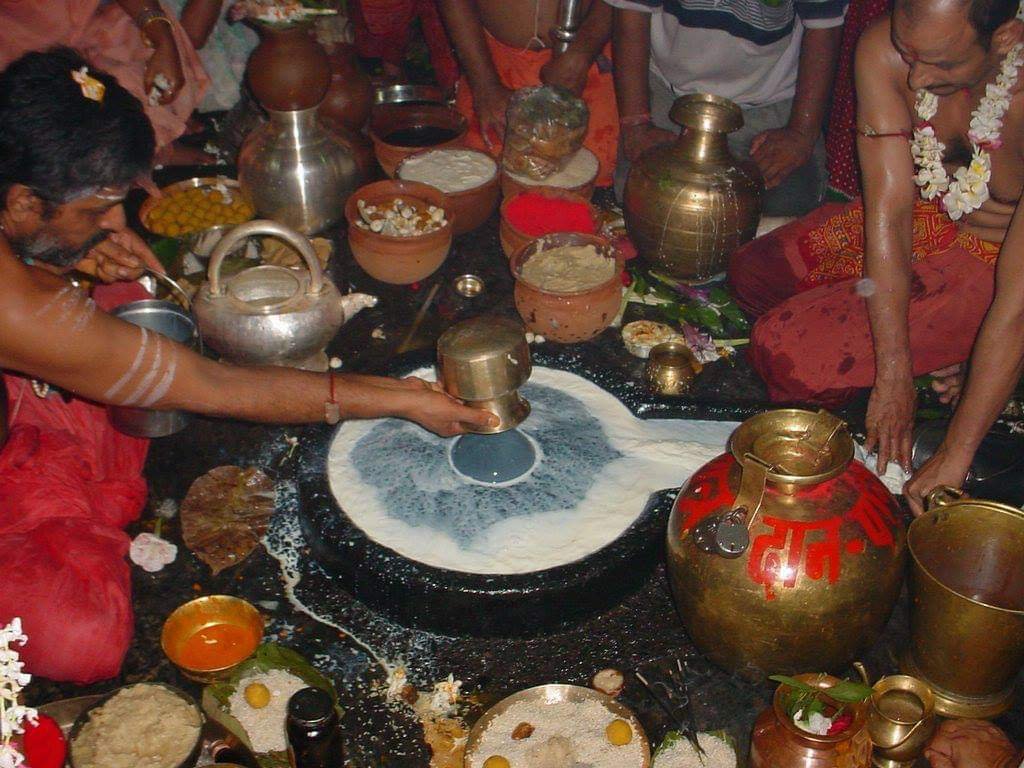 Meaning And Origin of Deoghar 
The literal meaning of Deoghar is the Adobe of Gods. It is also known as Baidyanath Dham and Baba Dham .
The origin of its name is not found in any script, but  its seems after the construction of the Baidyanath Temple, it is known to be as Baidyanath Dham and later referred to as Deoghar.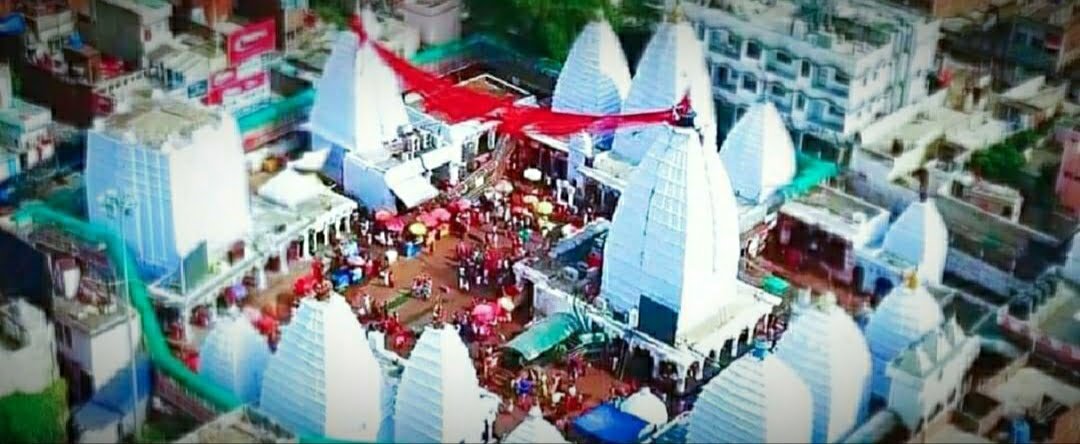 History of Baidyanath Dham 
Baidyanath Dham has been referred to as Haritaki Van, and Ketaki Van in Sansktit Texts. In Dwasdasa Jyotirlinga Stotram, Adi Sankaracharya has mentioned Baidyanath Jyotirlinga in the  following verses: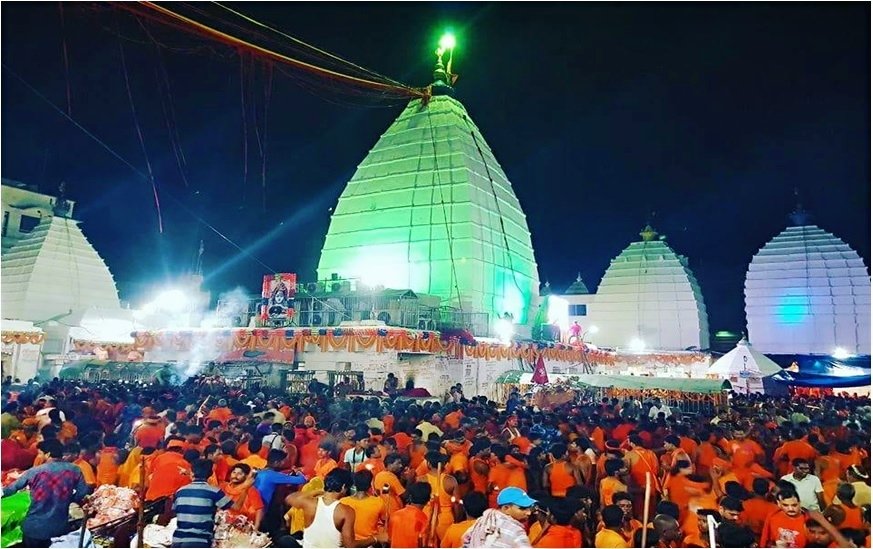 पूर्वोत्तरे प्रज्वलिकानिधाने सदा वसन्तं गिरिजासमेतम् ‖
सुरासुराराधितपादपद्मं श्री बैद्यनाथं तमहं नमामि ‖
Baba Baidyanath Dham is the prime attraction in Deoghar. The temple is one of the twelve Jyotirlingas in India. Baidyanath Dham is 4 km away from Deoghar Railway station and from Jasidih railway station, the temple is 8 k.m away. Raja Puran mal  built this temple, in 1596. The Baidyanath Temple is 72 feet high, east-facing. Apart from this the 'PANCHSHUL' and 'CHANDRAKANTA MANI are placed on top of the temple. The 'Chandrakanta Mani' is an eight-petal lotus.The main Shiva Linga is about 5 inches in diameter and placed on a large slab.
There are 22 temples insight the temple complex. Like Baba Baidyanath Temple, Maa Kali Temple, Maa Annapurna Temple, Lakshmi Narayan Temple, Neel Kanth Temple, Maa Parvati Temple, Maa Jagat Jananai Temple, Ganesh Temple, Brahma Temple, Maa Sandhya Temple, Kal Bhairav Temple, Hanuman Temple, Manasa Temple, Maa Saraswati Temple, Surya Narayan Temple,  Maa Bagla Temple, Narvadeshwara Temple, Shri Ram Temple, Maa Ganga Temple, Anand Bhairav Temple, Gauri Shankar Temple. Maa Tara Temple. There are 3 other sacred places insight the temple complex. Like Chandrakupa  well, Neel Chakra, Tulsi Chaura.
Story of Ravaneshwar Baidyanath Dham Jyotirlinga 
According to the legend, Dashanan was doing penance on the Himalayas to please Ravana Lord Shankar, cutting his head one by one and offering it to Shivalinga. After offering 9 heads, when Ravana was about to be beheaded 10th, Bholenath appeared pleased and appeared to him and asked him to ask for a bride.
Then Ravana asked for a boon to take 'Kamna Linga' to Lanka. Ravana not only had the power to rule the three worlds besides gold Lanka, as well as imprisoned many gods, Yakshas and Gandharvas and kept them in Lanka. For this reason, Ravana expressed his wish that Lord Shiva should leave Kailash and stay in Lanka, Mahadev fulfilled his wish, but also kept a condition. He said that if you kept Shivalinga on the way, then I will stay there again and will not wake up, Ravana accepted the condition, here all the gods got worried as soon as they heard of Lord Shiva leaving Kailash, to solve this problem. All went to Lord Vishnu. Then Mr. Hari created Leela. Lord Vishnu asked Varun Dev to enter Ravana's stomach through Achman. Therefore, when Ravana came to Sri Lanka with a shivling after Achman, he got a small glimpse near Devghar, in such a situation, Ravana went to take a Shivalinga to a Baiju named Ahir. It is said that there was Lord Vishnu in the form of Baiju Gwale (Ahir). Due to this also, this place of pilgrimage is famous with Baijnath Dham. According to mythological texts, Ravana kept on miniature for many hours, which is still in Devghar as a pond. As Ravana was delaying, in the same way, the weight of Shivalinga was increasing and being fed here, Baiju Ahir installed Shivlinga on the earth. When Ravana returned, he could not lift the Shivling even after a million attempts. Then he too understood this leela of God and he became angry and went after kicking four on the Shivling and coined his thumb.
Baiju was watching all this, he felt that this is the way to do devotion to Baba ji, since then Baiju's routine became routine, he used to hit four sticks on the Shivling daily and then he would get absorbed in the devotion of Mahadev by pressing the Shivling with the thumb. One day Baiju was very hungry, when he went home and as soon as the food was in his mouth, Baiju remembered that today, he did not have devotion to Bhole Baba; Mahadev would have appeared while attacking Shivling, Mahadev speaking Baiju I have been very happy with your devotion. On seeing Baiju Mahadev, he falls at his feet and says Mahadev I had seen Ravana, I would have done such devotion to you. Hugging Mahadev Baiju and saying Baiju you have done my devotion with heart, from today the world will know you as my greatest devotee, your name will be taken before me and this place will be famous as Baba Baijnath Dham. Every wish that a devotee will come here with true heart and worship will be fulfilled.
After that Brahma, Vishnu and other gods came and worshiped that Shivling. As soon as Shiva appeared, all the Gods and Goddesses established the Shivling at the same place and praised Shiva and went back to heaven. Since then Mahadev sits in Deoghar as 'Kamana Linga'.
Importance
The very sacred and grand temple of Baba Bholenath is situated in Deoghar. Every year the Sravana Mela is held in the month of Sawan in which lakhs of devotees come to see Baba Bholenath by chanting "Bol-bomb" "Bol-bomb". All these devotees take the holy Ganga water from Sultanganj and take a very hard walk of about hundred kilometers and offer water to Baba.
The major feature of this temple is that it has 'Panchshul' on its top, not Trishul, which is considered as a protective shield. It is believed that Lord Shiva is pleased with the mere sight of Panchshul.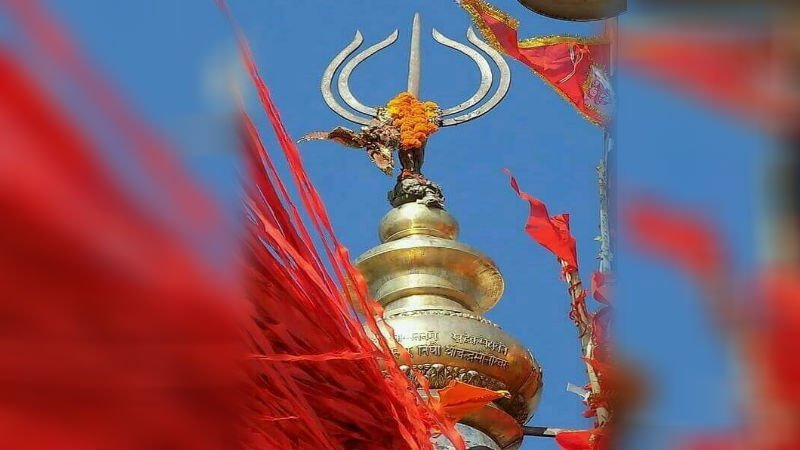 There is 'Trishul' at the top of all the Jyotirpeeth temples, but Panchshul is installed in the temple of Baba Baidyanath. It is believed that due to the safety shield provided by Panchshul, this temple has not been affected by any natural disaster till date.
In addition to the Jyotirlinga Baba Baidyanath Temple, Shakti Peeth Maa Parvati Temple, 20 other temples are located in Baba Baidyanath Temple Complex With twenty two temples.
Also read about: Shravani Mela